General Purpose
"Diversity Beyond Expectations"
This best describes the depth of Spec's product line of general purpose tables.
Every size and shape imaginable is available including X bases, Four Column X bases, T bases, drums, cubes, and sled base. Spec offers you complete flexibility. Tables range from flip top, folding and adjustable with mobility options.
Collaborative Environments Brochure
General Purpose Tables Brochure
Installation Gallery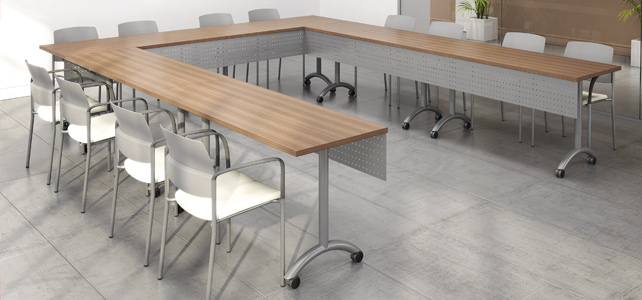 Tables can be used in any application from cafeteria to the classroom to the boardroom by specifying table shape, size, base design and options.

Flip Top Tables
Specify flip top mechanism with any General Purpose table T, C or X base for the tightest nesting option available – less than 6 inches between tables!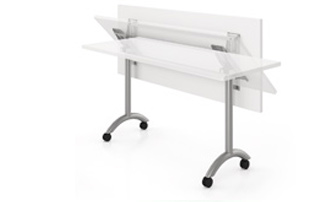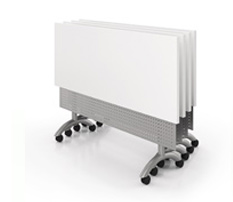 Folding Tables
Folding tables offer the ultimate in transport and storage convenience. An exclusive, patent folding mechanism ensures ease of use with durability beyond belief.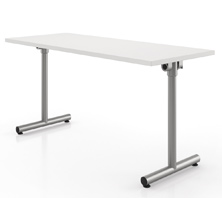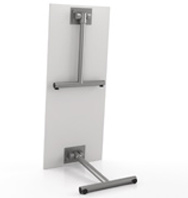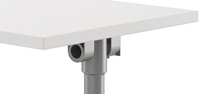 Height Adjustability
Consider the added uses of tables with height-adjustable legs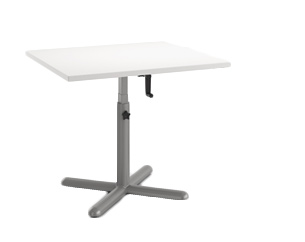 Crank Adjustable Tables
Crank Adjustable bases are available on round, square or rectangular tables. Provides 8" height adjustment.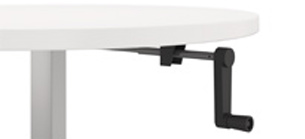 Ladder Adjustable Tables
Ladder Adjustable option is available on X and T bases only. Provides 5" height adjustment.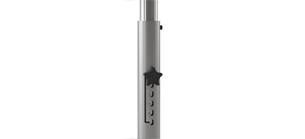 Pull-release Pin
Pull-release pin height adjustment is available on Cruiseline and C, T and X Castaway bases.
Modesty Panel
Modesty panels are available in a variety of designs and materials. Available both fixed and hinged. Standard 42"-72" long and 10" high. Custom sizes are available.
Metal modesty panels are available in any one of our 76 Spectone powdercoat finishes. other perforated designs may be available. Contact Spec.
Perforated Metal
Power & Communication
Power and communication can be distributed in a number of ways whether your tables are fixed configurations or mobile, flip top tables – complete with wire management.
In flexible environments where laptops are the norm and tables will be moved frequently, power bars and PVC wire managers are helpful options. power running from one table to the next can be disconnected easily and quickly to accommodate the relocation of tables.
Extruded wIre management trough
Wires disappear into this efficient design that features an attractive aluminum extrusion. The Perforated door option allows easy access and adds to the upscale look. PVC wire managers snap neatly in place inside or under the trough to organize all electrical and communication cables. Trough Joiners fit on the spines to connect the troughs and allow cables to move cleanly between tables. The optional End Cap provides a clean finish.
Tap-In Powerway
The Tap-in Powerway carries power and data cleanly from table to table with minimal footprint. Manhattan and Trius Tour tables can be flipped with powerway and modesty in place.
A number of options to bring power and data to the surface are available – from grommets to power and data modules.