Blog Image: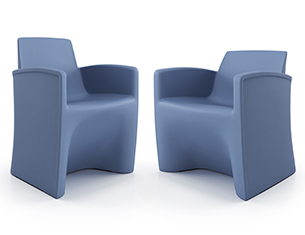 Hardi – A Holistic Solution
Designed as a single-piece of rotationally molded polyethylene, Hardi launched last year to rave reviews for its worry-free support in Behavioral Health and hard use applications. Hardi now welcomes four new solutions, to ensure design continuity and breadth of line! With no moving parts, no protruding legs and extreme durability, the complete Series helps put patients and caregivers at ease.
Hardi Rocker – Motion with Sturdy Support

Hardi Rocker transforms Hardi's signature one-piece design into a comfortable and supportive option. Ideal for patients to self-soothe, the Rocker was designed with patient and caregiver safety in mind.
Hardi Stool Sits on Stand-By

Hardi Stool is the fitting addition to situations where needs change frequently. It can be weighted up to 44 lbs and specified with an optional floor mount.